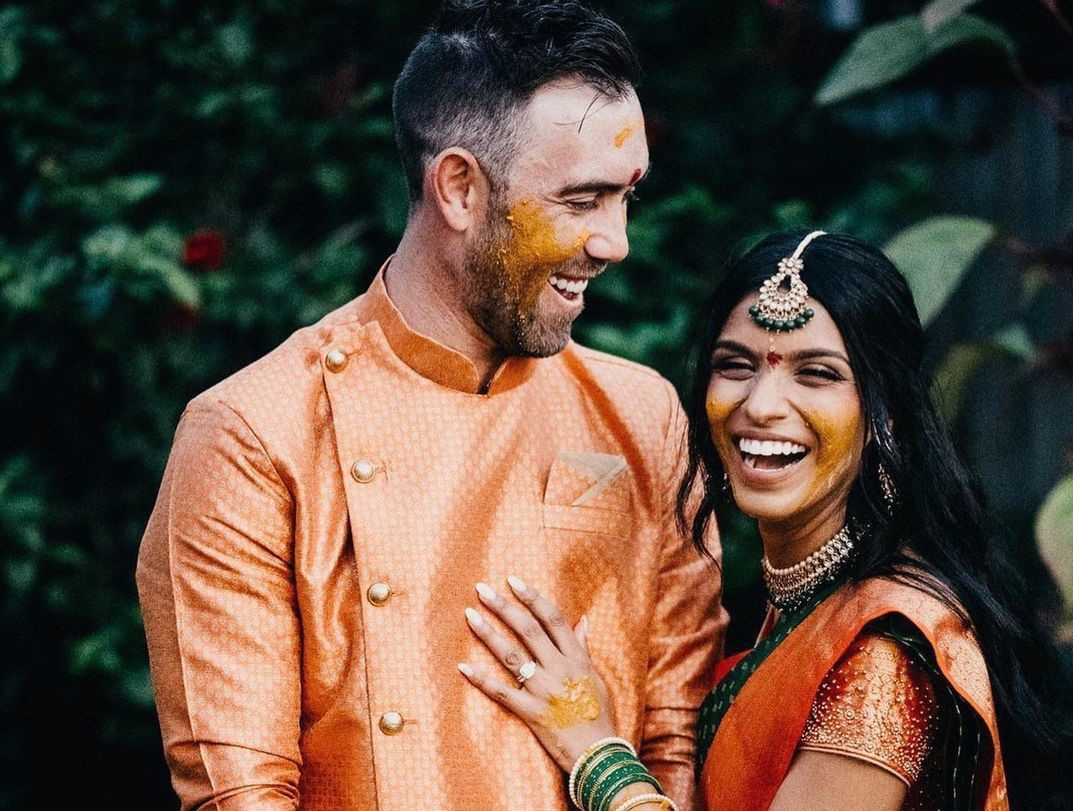 Cricketer Glenn Maxwell married Vini Raman
Congratulations to Australian cricketer Glenn Maxwell! The all-rounder tied the knot to his longtime girlfriend, Vini Raman, an Indian-Australian pharmacist, at Immerse Winery in Victoria's Yarra Valley in Australia on Friday. The couple, who have been dating for over two years, have shared photos of their wedding festivities in full swing – and there's more to come!
Maxwell and Raman took to Instagram to give an intimate look at their private ceremonies. Pictures show the couple had a traditional Christian ceremony and are now waiting to perform an Indian wedding.
In a joint post, they announced, "Wifey and Husband. The best is yet to come." Raman stunned in a gorgeous white beaded lace dress with a short train the day she said 'yes' to the cricketer. She wore her hair long and was flanked by a veil of Whimsical traditional wedding Standing next to her hand in hand, her husband Maxwell looked dapper in a black tuxedo.
Raman also took to his Instagram Stories and posted an image of the couple holding hands and showing off their wedding rings. In love, she captioned the adorable photo, "Love is a search for completion and with you I feel complete." As they wrapped up their Christian wedding, the duo traveled to Melbourne for an Indian ceremony honoring Raman's Tamil heritage.
On Thursday, the duo posted "a little preview" of their "intimate Nalangu/Haldi ceremony" where the two could be seen in brightly colored Indian outfits. Raman looked stunning in an orange and green banarsi saree with gold embroidery on it. Paired with the bride, the groom looked better than ever in an orange and gold sherwani with matte gold buttons to finish the regal look.
The adorable footage showed the groom kissing Raman on the forehead and enjoying the event to the fullest.
While we don't know what's next in their wedding week, Maxwell shared an interview with NDTV that "there are three events during the week starting on Monday. It's a bit of a festival for my wedding this year. All we know is that the celebrations have only just begun marking their big day on March 27, and we can't wait to hear more!
The duo tightened security at their lavish but private ceremony after their wedding card leaked online in February. Maxwell has been told by a former Indian Premier League (IPL) teammate that details of his pending nuptials could be seen by millions around the world. Later, it was discovered that Indian actor Kasturi Shankar was sharing private information on social media.
The guest list was limited to just 350 guests. AFL star Brendan Fevola, cricketers Aaron Finch, Shane Watson and Mitch Johnson attended the wedding.
Do you have something to add to the story? Share it in the comments below.